Our restaurant has been in business since 2006, and was completely renovated in 2019 becoming a Bistro using fine dining technologies, in addition to the previous steakhouse profile.

The restaurant, operated by Haraszthy Winery in Etyek, reflects the multicultural spirit of the owner perfectly. Carlos Coelho, who is from Argentina originally but also feels at home in Hungary and California, happily redefined our restaurant's concept with his international team of chefs. Our primary goal is to offer a whole day of perfect experiences to our guests at Haraszthy Winery.
Matador Restaurant is uniquely designed. Our memorable dishes ar prepared under the guidance of Brazilian-Portuguese corporate chef, André Bicalho and chef Diego Bautista using seasonal ingredients and high-quality kitchen technology.
André Bicalho has traveled around the world, working in areas directly or closely related to gastronomy. His extensive experience on the international stage and the cuisines of different nations have inspired André to his commitment to gastronomy. He spent 13 years in various parts of Europe: Spain, Portugal, England, Belgium, Germany, and completed a 6-month internship at the 2-Michelin-star Villa René Lalique with chef Jean-Georges Klein in the Alsace region of France.
He is passionate about experimenting with flavor combinations, turning them into special delicacies. Joy, creativity, innovation, the opportunity for constant learning, and the gift of mother nature: the precious raw ingredients inspire him every day to put on his apron.
After moving to Hungary, he gained his reputation as head chef in Baraka Budapest fine dining restaurant. He became a member of the Haraszthy team as corporate chef in 2020.
Our restaurant represents the diversity of cultures as a barbecue-/steakhouse and bistro. We consistently incorporate smoky flavors into our dishes, always taking care to be consistent and not a distraction from our wines. The most important component is the quality of the meat, we make sausages and cold cuts from ingredients arriving from all over the world in addition to steak dishes. We also place great emphasis on the use of local and seasonal ingredients. Bakery products come fresh from local suppliers, and we grow some of the vegetables ourselves.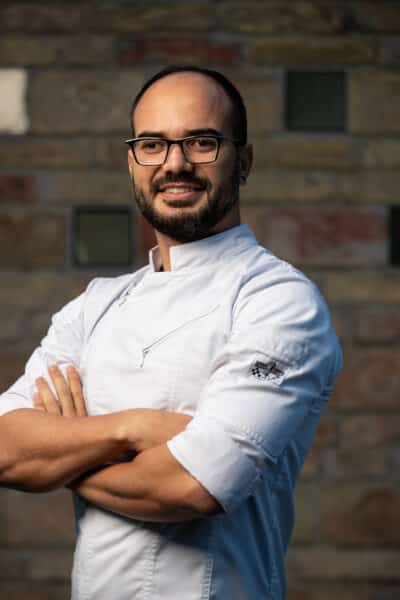 "Working together is a great challenge but also entertaining since we always find cultural and gastronomical differences using the same ingredients. But this is exactly what brings us forward and enables us to invent new ways of cooking."
– Diego Bautista, Chef
We would like to attract the truly savvy wine lovers and guests who are more interested in gastronomy, as well as those who are open to new gastronomic and culinary experiences and would like to venture into the specialties of the new wave of international cuisine as part of an a'la carte or unique wine dinner.
Our wine selection is complemented by red wines from our sister wineries in Argentina and California as well as products from Etyek, which can be perfectly paired with our barbecue dishes.
Located in the heart of Etyek, Matador restaurant perfectly reflects the vibrant energies of the area with its Mediterranean ambiance, elegant winery, ever-bustling terrace and swimming pool.